Tony Gee opened his first leadlight studio in 1979. In that small studio in Queenstown he developed his skills in the glass style commonly known as Tiffany Glass, or copper foiling to those in the trade. In 1982, Tony's youngest son Anthony (then a boy of 10 years old) revealed the same passion and talent as his father. The two worked mostly on Tiffany style lampshades, terrariums and leadlight windows.
At the age of 18 Anthony went to work with his father in a studio setting, supplying quality leadlight windows to the public and construction industry Australia-wide. In 1992, they opened their own leadlight studio in Semaphore Park.
In 1992, they opened their own leadlight studio in Semaphore Park. In 1994 Radka joined the team and has been with the family business for over 20 years. Initially trained under watchful eyes of both Tony and Anthony, Radka is now a leadlight specialist in her own right, repairing, restoring and creating beautiful stained glass and leadlight windows.
Full management and ownership of the studio was taken over by Anthony in 2010 upon the official retirement of Tony, who, retirement notwithstanding, remains active in the business to this day. The business expanded in 2000 to cater for a growing demand for high quality, artistic and individualised glass splashbacks. Examples of the many and varied installations in this exciting area can be found in our galleries.
Anthony's eldest son Michael came to work in the business in August 2012. At that time the business had just secured the contract to restore all 244 leadlight windows in the historic Adelaide house Carrick Hill; suffice to say, Michael quickly found his feet in the trade. He brings a modern and artistic approach to the business which stands us in good stead for the future.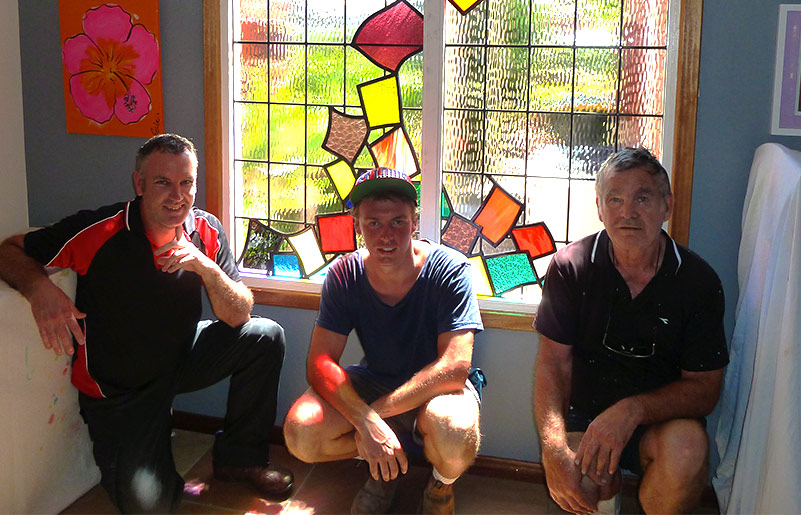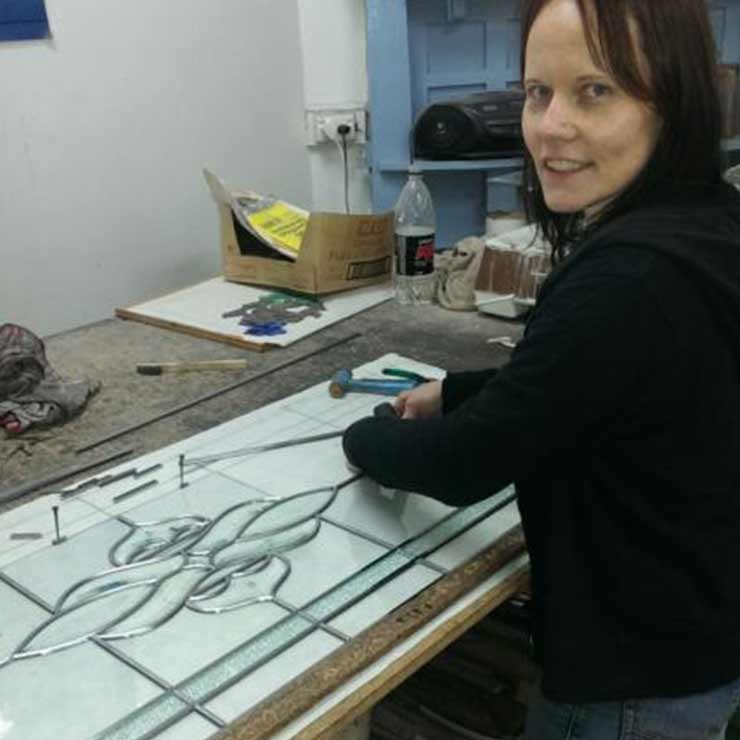 Radka Gee
Leadlight Restorer
Radka has over 20 years of experience in designing and creating leadlight and stained glass windows. Her extensive experience in restoration and repair saw her responsible for managing the recent Carrick Hill leadlight restoration project which was completed in early 2013.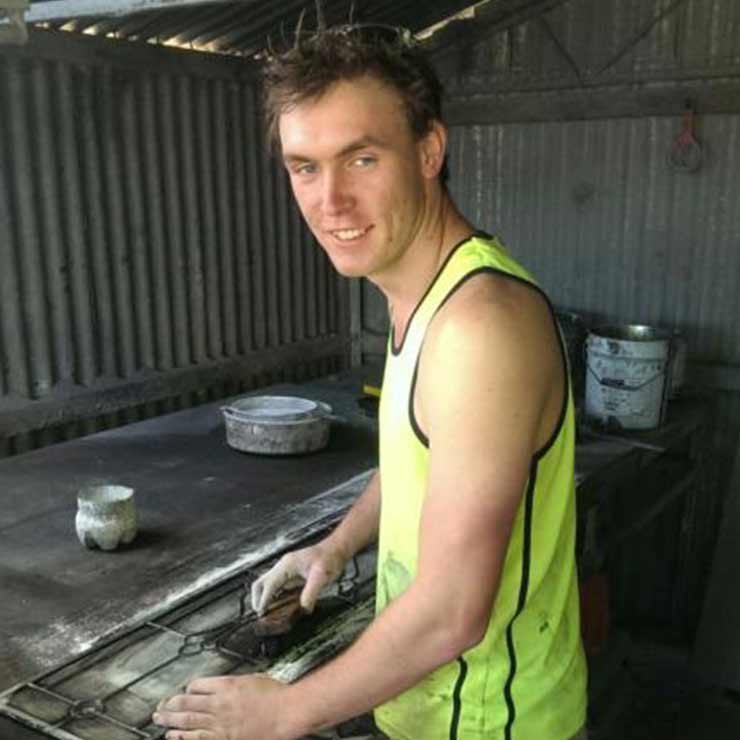 Michael Gee
Glass Expert
Michael has recently commenced his career in leadlight design and brings with him a modern and vibrant approach. His enthusiasm to learn new skills and apply them in the trade is exciting to say the least. He also has a great passion for creating hot-glass or kiln formed glass.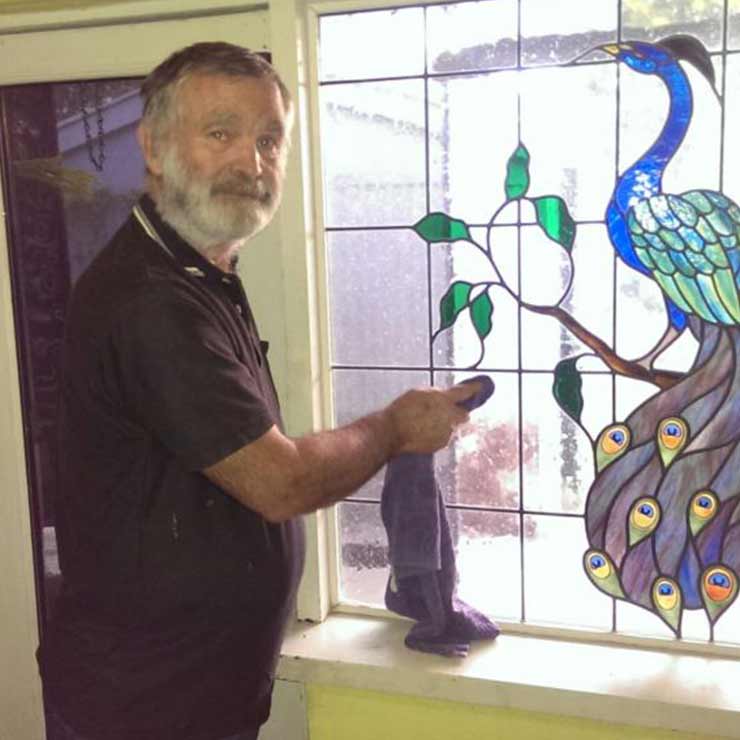 Tony Gee Snr
Trainer/Founder
With over 35 years of experience in the industry, Tony has worked alongside some of South Australia's most talented leadlighters. Although now retired, he regularly assists with the training of Michael Gee and consults with clients regarding artistic glass applications.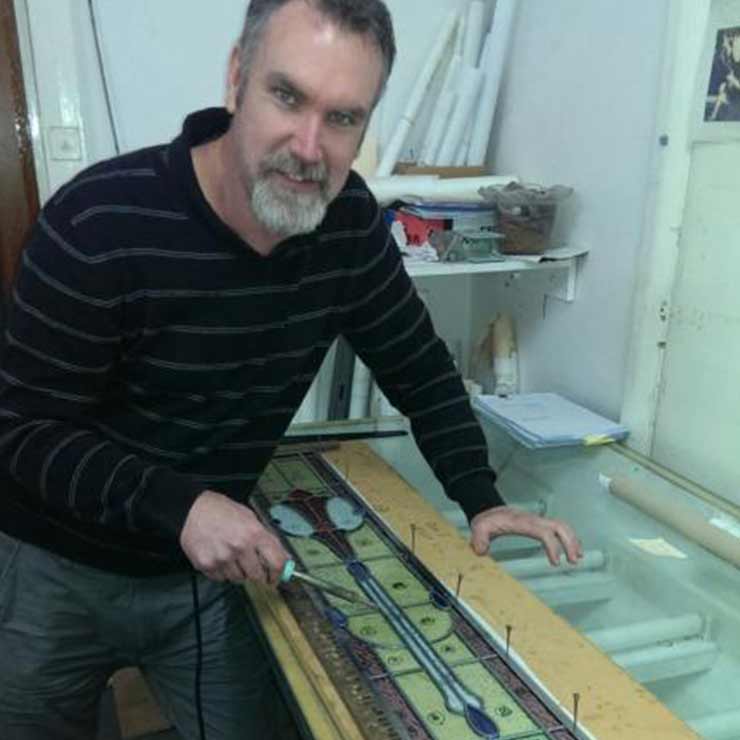 Anthony Gee
Company Director
Anthony has been well groomed in all aspects of the leadlight industry, resulting in him taking management and ownership of the studio 15 years ago. The success of historically important installations such as Carrick Hill and Carclew reflects his passion for the art form.
"I have known Anthony Gee from Adelaide Glass Painters for the past 9 years. His quality of workmanship and knowledge of the glass industry is second to none. He conducts himself in a very professional manner and always follows the guidelines of the Australian Standards Code for glass and glazing (AS 1288-2006). I will continue to use and recommend Anthony for all our leadlight window and glass splashback needs"

− Paul Zammit - Paul Anthony Constructions
"We were very impressed with the splash back installed by Anthony from Adelaide Glass Painters. He provided advice on the colour and we couldn't be more happy with it. It picks up all different hues depending on the light, which adds so much interest and life to the room. We were so happy with it that we then got him to design and instal a beautiful leadlight window above our front door. And can I say that it's REALLY impressive. Thanks so much for your advice and what you've done. Be assured that we will recommend you to anyone"

− Deb McGinlay & Rick Webber - Kitchen Splashback and Leadlight
"Just wanted to drop a quick line to you to thank you following the installation of our Corporate Whiteboard. Thank you for taking the time to understand our requirements and present an extraordinary idea that has resulted in a very stylish whiteboard. We absolutely love what you have done and I have received many compliments since its installation. In addition the whole process from go to whoa was so very painless – a true indication of your professionalism. We would not hesitate to use your services again and would happily recommend you to anyone requiring them."

− Deb Spacie - Poynter Hargraves
"When we moved into our house we had Adelaide Glass Painters install our kitchen splashbacks. Last year we fully renovated our kitchen with different coloured splashbacks. We found Anthony to be always patient and helpful, providing excellent quality in his product and work!"

− Jeanine & Chris - Kitchen Splashback
"'…polite, flexible, professional and honest …"

− Raelene Henley - Private client